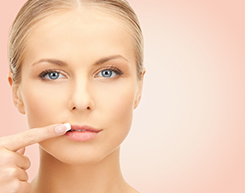 Lip Augmentation
A plump pout is universally synonymous with youth, and an icon of sensuality. Lip augmentation uses a variety of materials to create fuller, more voluptuous lips, and can also reduce wrinkles in the mouth area, restoring youthfulness.
Lip augmentation is a simple, in-office procedure with little to no downtime and probably one of the highest rated patient satisfaction procedures we do in our office with virtually instant results and gratification. Dr. Webster will help you select the lip augmentation method that is best for you and with his conservative eye and approach, help you achieve beautiful lips that appear natural and full but never artificial or out of place.
Candidates
As we grow older the lips become thinner and longer, and fine vertical lines appear – making lipstick bleed. Fortunately, there are various lip augmentation techniques available to help improve this situation, and Dr. Webster can elaborate on them to assist you in your selection. Lip Augmentation is for those who want their lips more full in size and shape. You may also be a candidate for lip enhancement if the changes in size or shape of your lips contribute to an unsatisfactory appearance of the lips.
Procedure
Fillers are administered by injection. Hyaluronic acid fillers such as Juvederm are often used for lip augmentation by injection. Their plumping properties last 6-12 months, making them a good way to test drive lip augmentation without investing in surgery. Fat grafting from your own body can also be used for lip augmentation.
Complementary Procedures
Skin resurfacing of the skin surrounding the mouth can help to improve the vertical lines which appear on the skin around the upper and lower lips.
Recovery
For noninvasive lip procedures, you are able to return to work the next day. For most injectables, your lips will be quite large and swollen at first; you will begin to notice a difference in your lips as the swelling subsides during the first week after your procedure