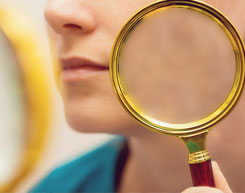 Facial Trauma
Injuries to the face, by their very nature, impart a high degree of emotional, as well as physical trauma to patients. The science and art of treating these injuries requires special training, experience and an understanding of how the treatment provided will influence the patient's long term function and appearance.
Dr. Webster meets and exceeds these standards. He is trained, skilled and uniquely qualified to manage and treat facial trauma.
Candidates
Facial trauma encompasses the range of injuries from facial laceration to more serious injury which involves fractured facial bones. In children and young adults, sports injuries and accidents are responsible for most facial trauma. In adults, motor vehicle collisions are more common.
Procedure
Typically, facial injuries are classified as either soft tissue injuries (skin and gums), bone injuries (fractures), or injuries to special regions (such as the eyes, facial nerves or the salivary glands).
Surgery following facial trauma is complicated and the goal is to repair as much as possible in one operation. The surgeon may use bone grafts, taking bone from other parts of the body to repair the facial bones, or fill in smaller areas of missing bone with prosthetic materials and implants. Broken facial bones are held in place with titanium mini-plates and surgical screws. This technique is called rigid fixation. Lacerations (tears) in the face are closed with stitches. If large areas of skin are missing, the surgeon may use a flap, which is a section of living tissue carrying its own blood supply, from another area of the patient's body and transplant it to the face. Some facial injuries may require the assistance of a neurosurgeon, oral surgeon, or ophthalmologist.
An attempt at accessing the facial bones through the fewest incisions necessary is always made. At the same time, the incisions that become necessary, are designed to be small and, whenever possible, are placed so that the resultant scar is hidden and the patient's facial appearance is minimally affected.
Recovery
Craniofacial reconstruction following trauma is different for each individual as it highly depends on the nature and location of the patient's injuries.