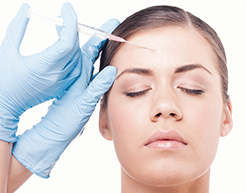 BOTOX® Cosmetic Treatments
Botox is an FDA approved cosmetic treatment used to reduce the appearance of facial lines and wrinkles. It has been studied and used extensively and safely in the medical field for over thirty years. As we age our skin naturally forms and retains fine lines, wrinkles and folds. Botox can improve these wrinkles and lines and restore a more youthful, fresh appearance. Treatments are quick, noninvasive, and the aesthetic results are excellent!
Candidates
You may be a candidate for BOTOX® treatment if you are dissatisfied with facial wrinkles associated with facial muscle action, brow heaviness, the appearance of tiredness or fatigue or negative facial expressions that are inconsistent with your intent
Procedure
BOTOX® is a member of the 'wrinkle relaxer' class of injectable facial treatments. Wrinkle relaxers block the nerve impulses that enable the muscle contractions responsible for creating expression lines on the face. Wrinkle relaxers can smooth existing lines and may prevent expression lines from forming. With treatment over time, existing lines may disappear.