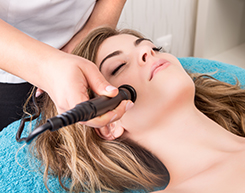 Laser Treatments
Laser resurfacing is a skin resurfacing modality which employs laser energy to rejuvenate the facial and neck skin.
Skin Resurfacing
Laser resurfacing is a skin resurfacing modality which employs laser energy to rejuvenate the facial and neck skin. Laser resurfacing may improve the appearance of fine lines and age and sun-related discolorations. A wide array of lasers are available for consideration. Facial applications of laser treatments include improvement in the appearance of melasma, facial redness, vascular malformations, acne, scars, other age spots or sun spots and more.
You may be a candidate for a laser skin resurfacing if you have findings of sun-damaged skin including fine lines and wrinkles, enlarged pores, skin discolorations, superficial vascular lesions, or facial scarring.
Hair Removal
Oregon Coast Plastic Surgery Laser Hair Removal utilizes a laser system to treat men and women's hair removal needs including facial areas such as the lip, chin or sideburns, bikini back and shoulders, full legs and arms. The laser treats a variety of skin types (light, dark and tan skin) as well as different hair thicknesses (from coarse and thick hair to fine hair).
Do you have unwanted hair? Are you tired of waxing, shaving, and tweezing? Laser Hair Removal is more enduring than temporary treatments and has been clinically tested to be safe.
Elimination of Visible Facial Veins
These broken veins generally appear on the neck, cheeks, nose, eyelids, and forehead, are easily seen through the skin, and can be red, purple, or blue in color—which means they're prominently placed, easily seen, and therefore often embarrassing for those who have them. Spider veins are more likely to develop in women than in men, and, along with varicose veins, appear more frequently with old age: It's estimated that 30 to 60 percent of adults have either spider or varicose veins. The easiest, quickest, and most effective way to get rid of spider veins on the face or legs is with laser treatment
Do you have red veins in your cheeks that even makeup can't conceal? Networks of purplish veins on your nose? You are a candidate for treatment of facial veins if you any of these problems.
Complementary Procedures
Minimally invasive treatments which may be undertaken concurrently with laser skin resurfacing include wrinkle relaxers, such as Botox, or injectable dermal fillers and volumizers such as Juvederm, and Radiesse. Other resurfacing procedures such as chemical peeling may be employed depending on the particular needs of a given patient.
Recovery
Generally some discoloration with redness is expected. You may also develop temporary light bruising caused by the laser. Discolorations will darken initially, then fade over two weeks. The risk for scarring from laser treatment is low